December 2006
December has been a busy month! First of all Congratulations to Linda Crank on her purchase of "Cashmere". We wish her many happy years with this lovely mare. Kristal Farm also sold their wonderful mare "Ryan" to Susan Barisone! We are sure that she will also enjoy many years with this mare. Kristal Farm has some more great prospects for us to back and sell so keep watching for updates!
We want to wish everyone a very Merry Christmas and all the best for 2007!!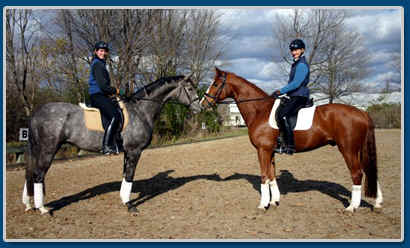 Andrea/Flamboyant + Gina/Delight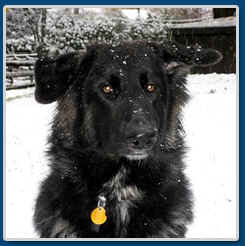 Look how Cory has grown, my cute puppy is now 8 months and enjoying his first snow.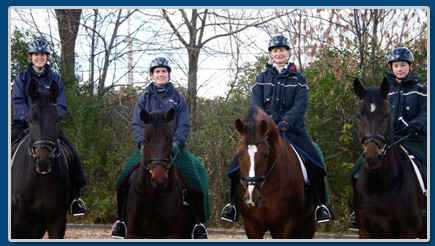 The Kristal Farm gang left to right - Shelley/Flagship,Andrea/Walencia, Gina/Cashmere, Amanda/Ryan.

November 2006
September was a good month for Andrea and L'Amistad. They were 4th level Champions at the Ontario Provincial Championships. They then traveled to Devon, Pennsylvania for the full week at Dressage at Devon where they showed in the line classes as well as the 4th Level. L'Amistad had very good scores and placings so it was a great ending to a very successful season.
We have had a very wet and cool fall so now into November we are enjoying some very nice sunny weather again. We are enjoying the outdoor ring since we know that the winter confines us to the indoor.
We congratulate Lynley Cook on her purchase of Encore! He has settled into his new home in Calgary, Alberta. We had a good Freestyle clinic with Karen Robinson and are looking forward to a new Young Rider Freestyle for Amanda and Dance as well as a first time Freestyle for L'Amistad.
| | |
| --- | --- |
| L'Amistad | L'Amistad |

August 2006
Franklands had a great August with the shows and with all the grandchildren coming daily for lessons on the ponies Faline and Quel.  The children have improved a lot over the last weeks and are ready for their final wrap up on the Labor Day weekend.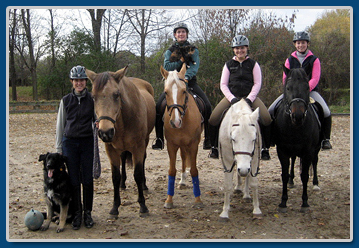 Franklands pony crew and helpers. left to right - Cory, Shelley, Final Fling (27 years old!), Andrea on Daylight holding Callie, Emily on Quelque Chose, Amanda on Faline.
Amanda Kalvoda showed Dance in the Young Rider division at the CDI Toronto and had some very good scores especially the freestyle.  Andrea rode Encore in the indoor at the CNE in the Fourth level classes.
The Canadian Regional Championships were held in conjunction with the CDI Ottawa Fall Classic at The National Capitol Equestrian Park in Ottawa.  Andrea rode Kristal Farm's Walencia to the Open Training Level Championship as well as Kristal Farm's Ryan to the Open Second Level Reserve Championship.  Gina rode Kristal Farm's Cashmere in the Open Third Level and was 4th overall in the Championship.  Andrea also rode L'Amistad to the Fourth Level Championship.  L'Amistad, who is owned by Lori Garlough of Fleggstone Farm, will go on to compete at the Ontario Championships in September as well as the Breed Show and the Fourth Level classes at Devon, Pennsylvania.
Lorraine Chappell rode Carpatino in 2 Grand Prix classes and had good rides which can built on for the future of this lovely young horse.  Judy Kirton rode Easy Tyme in the second level classes and had very solid relaxing rides which shows us that she is ready to go on to the next level.  Anne Schwab had Picador in 2 Prix St George classes and was placed in the big field with the CDI horses and had a solid ride both days.  Stephanie Roffey was very consistent in the First level classes with Wendell, this pair has improved alot over the summer.
Congratulations to Ashley Holzer and Evi Strasser for representing Canada so well at the World Equestrian Games in Aachen, Germany.  We now look forward to the Pan American Games next year in Rio de Janero!

July 2006
We went to the Palgrave Summer Classic and braved the heat with 3 horses. Andrea rode Raffles in the advanced division and had her best score in the Intermediare 1 Freestyle - 75%! She won the Advanced Championship. Amanda rode Dance in the Young Riders tests and had her best score in the Freestyle as well - 65%! She was Reserve Young Riders Champion. Gina rode Encore in the Prix St Georges and 4th level. Encore had his personal best in the Prix St Georges with 64% so we were very happy about that!
Two weeks later we took 10 horses to Friends of the Park in Ottawa. Gina rode Frappuccino and Kristal Farm's Cashmere to the Third level Champion and Reserve. Andrea rode Kristal Farm's Walencia to the Training level Championship and Ryan to the Second level Championship. Andrea also rode The Firelight Group Inc.'s "Delight" to the First level Championship as well as high point of the Show!! He won a beautiful painting!
Emily did a beautiful job of taking Daylight through the Second level classes and had good scores and placings. Shelley rode Kristal Farm's "Flagship" in his first show at training level and he won his last class with 67% - a great start for this lovely 4 yr. old!
Judy rode Easy Tyme in the second level and had good scores that are improving with every ride. Anne rode Picador and won the Prix St Georges on the second day with a great score of 64%.
Lorraine Chappell is here from BC and had her mare Whitney in the Fourth level where she was reserve Champion. Her lovely gelding - Carpatino - went through his debut at Grand Prix each day and shows alot of promise for the future. It was good to get the first tests done - something to build on.
We look forward to cooler weather and the two upcoming CDI competitions in Toronto and Ottawa in August.

June 2006
Ingrid Klimke visited  Faith for a week and we had a great time with the horses.  Ingrid gave some very valuable input on all the horses here and inspired us with her all round horsemanship.  We did a mini seminar on the last day showing the training system starting with the youngster Flambo and going up to the advanced level with Raffles.  We even had her jumping Skylight over some individual fences so I think he will have to think about a jumping career for him, very interesting.
We just completed two weeks of showing the back to back CDI's at Ottawa and Blainville.   It was great to have such well run competitions, lots of classes as well as a super panel of FEI and National judges.
The horses owned by www.kristalfarm.com  were very successful.  Walencia, ridden by Andrea Bresee,  was in the Training Level at both shows and won the Open Training Level Championship at both shows.  Her scores were in the high 60's and her highest score was 75%!   Ryan competed successfully at Second level and was also the Open Second Level Champion at Blainville. Andrea rode Ryan as well and remarked how consistent she was in all the different conditions.  Blainville is a big atmosphere!  Cashmere was ridden by Gina Smith and she was also Open Third level Champion at Blainville with scores of 66,68, 68 and 75%!  A great "hat trick" for Kristal Farm!!
Andrea rode L'Amistad to the Open Fourth Level Championship at Blainville and was Reserve Champion Fourth Level at Ottawa. Owner Lori Garlough was also happy to have "Manny's" first foal Andrea rode L'Amistad to the Open Fourth Level Championship at Blainville and was Reserve Champion Fourth Level at Ottawa. Owner Lori Garlough was also happy to have "Manny's" first foal on the ground during the Ottawa show.  A lovely black filly!
Gina rode The Dressage Collection Inc.'s Encore to good success in fourth level as well as Prix St Georges.  Encore went 2 classes at Blainville at Prix St Georges and was very good with the atmosphere in the "big" ring!  He scored in the 60's and due to a torential downpour we scratched the last day of St Georges.  He is getting more and more consistent at the level and will be ready for the Intermediare I at the end of the summer.
Frappuccino went to the Ottawa show  at third Level and won the Open Third Level Championship.  Gina rode him through 3 very solid tests so it was nice to be up a level from last year and do so well.
Andrea and Raffles had 2 great shows.  She has some very nice scores at Prix St Georges as well as Intermediare I in the CDI division which will help her for the stage one qualifiers for the Pan Am Games next year.  Andrea won both the Intermediare freestyle classes at ottawa and Blainville so we are very proud of that.  Thanks so much to a wonderful music put together by Karen Robinson at www.applausedressage.com .  Look for the full report on the Dressage Canada website www.dressagecanada.org

Ryan and Andrea

Andrea and Walencia

Gina and Cashmere
| | |
| --- | --- |
| Andrea and Raffles | Amanda and Dance |

We also had 2 new young riders make their debut and it was very fun.  Amanda Kalvoda and Dance as well as Anne-Marie Wightman and Nitrus both did a very respectable job and will continue to hone their skills in the coming months.
Judy Kirton rode Easy Tyme in the second level classes and had many good scores finishing 1st in a class in Ottawa! 
Stefanie Roffey guided her mother's horse Wendell to the Junior First Level Championship.  It was a very consistent performance and improved with each ride. Anne Schwab and Picador competed at Blainville in 3 Prix St Georges tests and a 4th level.  Anne had good placings in all the tests being very consistent no matter what the weather and footing presented.  Anne gained valuable experience in the ring and with each test this pair became more confident.  They are well on their way to the advanced level of dressage!
Summer is definitely here and the grandchildren have been having lots of fun with our newly aquired school pony Quelque Chose.
Lorraine Chappell is here for the summer to train from Vancouver with her 2 horses Carpatino and Whitney so we look forward to getting to the shows with her.
Another new addition for our farm.  Gina's German shepherd puppy, Cory.  Born April 13 , 2006 he has a long way to go but looks forward to the summer and meeting all the people and grand children.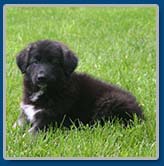 May 2006
 "Delight" had his first show in Kingston at Evergreen Farm May 27/06.  He was very nervous of the judge but as soon as he found out that he wasn't going to bite he was going by the booth like an old pro.  This is just the beginning!  Andrea also showed Kristal Farms "Ryan" for the first time at 2nd level and had very good scores.  Shelley rode "Daylight" for the first time at 2nd level and she achieved good tests and scores as well.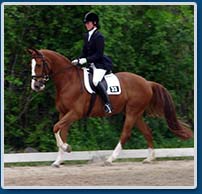 Our first show this year was in Ottawa organized by Equivents Inc.  It was cold and raining and subsequently really muddy.  The weather just did not let up for the entire 3 days.  The rings stayed wet so we puddle jumped for the judges! Andrea rode Kristal Farms  "Walencia" and "Ryan" in the training level and First level respectively.  They both were very well behaved and had great scores in the mid 60's.  "L'Amistad" finished 4th level champion for Andrea and Raffles was fresh but kept it together enough to have some decent scores in the Advanced division.  Her new Inter 1 Freestyle worked out beautifully so it was great to get the first ride over with.
Gina rode "Encore" in 4th level 1 and was 2nd to Andrea with a 64%.  "Encore" made his debut in the Prix St Georges and splashed through the ring for a 4th place and 60%.  Unfortunately the equivents website had us listed at a 42% so I hope anyone looking could see that the scores were not correct!  Gina also rode Kristal Farms "Cashmere" in the 3rd level classes and did beautifully to end up the reserve champion of the division. 
We have 2 freshly baked Young Riders to boast about as well.  Amanda Kalvoda and "Dance" rode well in all 3 classes and won the Freestyle on Sunday!  Anne-Marie Wightman rode very well on her newly aquired horse "Nitrus" and learned alot about him, he will be great fun in the shows to come!
I congratulate all my students on their success and for sticking it out in the worst weather of the spring!
We are looking forward to the summer and the next shows.  The grandchildren have started some riding on the weekends again and our new pony "Quel" will be on the farm soon for everyone to have fun on.

April 2006
"Flamboyant" - our newest youngster arrived from Germany and has settled in well.  He is a Furst Heinrich/Rubenstein/Lugano so he is lovely!  He is just 3 years old and growing like a weed so we are looking forward to a great summer of getting used to him.

February 2006
Happy New Year to everyone!  We have been enjoying a relatively mild winter so riding and training has been very comfortable.
I have officially registered our new syndicate as The Firelight Group Inc. so we are proud to have Delight, Skylight and Flambeau owned by such a supportive group of investors.  Flambeau is still in Germany so we hope to have him coming home in the next weeks to join us in Canada.  Delight and Skylight are schooling well so watch for them at the shows this summer.
Encore, owned by The Dressage Collection Inc., is expected to show at the FEI level this summer so that will be exciting since he was just barely backed when we got him as a 2 1/2 year old.  He will be 8 so how time flies!
Frappuccino will be moving up a level as well, and Raffles will be debuting a new Inter I Freestyle which we, along with Karen Robinson at www.applausedressage.com , are working hard at perfecting for the upcoming trials for the Pan Am Games.  The Games will be held next year  in July so it really isn't that far away!  Andrea will also be showing L'Amistad at the fourth level, he has really become stronger this winter and looks wonderful.  L'Amistad's first foal is due this spring so we are all excited to see the baby! Visit him at www.fleggstonefarm.ca
Cashmere, All Aboard, Austin, and Walencia are all from www.kristalfarm.com and are super dressage prospects for the serious competitor.  Cashmere is working on all the Prix St George movements and is lovely to ride.  At 7 years old, she will be showing at least 3rd level this summer.  All Aboard, Austin and Walencia are all 5 years old and will debut at the shows this summer as well.
Shelley, Emily and Kelsey have been working hard helping Andrea and Gina get the horses ridden.  Kelsey will be leaving us in April, on to an eventing oriented stable.  Amanda is back again with her horse Dance so we hope to get her going at the Young Riders level this year.
Stefanie has been a great help on weekends and we congratulate her on her new horse Eddie!  She looks forward to finishing High School, showing this summer and then starting University in the Fall.
It looks like it will continue to be a busy summer!!