December 2007
Winter has arrived early in Brockville so we will definitely be having a White Christmas!  We are excited to announce the arrival of a new horse for Gina.  Rhythmix is an Oldenburg gelding that was trained by Crystal Kroetch in Calgary since he was 3.  He has been very successful at the advanced level and is moving on to the movements for Grand Prix.  We have a great group of horses for 2008 so we look forward to next year.
The pictures explain just how much snow we have had and winter has just begun. We wish everyone a very Merry Christmas and all the best for 2008!!
| | | |
| --- | --- | --- |
| Cory enjoying the Snow | Ponies Quel and Faline, Kelsey, Emily, Kaylee, Kristin and my dog Cory | |

November 2007
We are excited to announce that Faith was awarded with the honor of Owner of the Year at the Dressage Canada reception at the Royal Winter Fair!  It is great for her and her family to get the recoginition of at least 18 years of supporting dressage with the team horses "Dutch Treat" Pan Am Games team gold medal 1991, part of the syndicate The Dressage Collection Inc. who owned "Faust" Olympic Games 1996, "Fledermaus" 1997 North American Championships silver medal team and World Cup Final in 2000, "Raffles" 2007 Pan Am silver team.  It is great for owners to have this recognition and it is certainly rare to have an owner with this longevitity in the sport.  Congratulations Faith and six generations of her family!

October 2007
We have had a few youngsters to back so they are all doing great and keeping us busy.  The show horses are all progressing well and will be able to train over the winter to the next level.  Franklands looks beautiful in the Fall and we have had great warm weather so riding outside has been wonderful.
Andrea has decided to start her own business near Toronto so she will be leaving the team at Franklands.  She has been with us a long time and we all wish her well in her new venture.  I'm sure you will see continued top results from Andrea and her students.
We are all looking forward to the Royal Winter Fair and the Dressage Canada reception where the Pan Am Team as well as the Junior and Young Rider teams will be honored.  Faith and Gina are invited as the owners of Raffles who Andrea rode to the Team Silver Medal in Brazil. It is a good wrap up to the year and it will be fun to watch this years Canadian Freestyle Championships at the same time!

September 2007
Andrea competed with L'Amistad at the advanced level in the Ontario Provincial Championships and finished reserve champion!  L'Amistad has come along so well and we are all proud of their progress!
September brings change and since Stef Roffey and Shelley are going back to University we have some new students at Franklands.  We welcome back Kelsey Dickson and a new working student Erin Wolter who are both great additions to our team.

This is Dakota, a 3 yr old hanoverian mare owned by Kristal Farm.  She was presented for inspection at the Hanoverian mare show and won the inspection and was best Canadian Bred Mare!  Congratulations to Michele Levesque on her breeding program!  Dakota is in foal to Fidertanz so she has returned home to Kristal Farm to have her foal next spring.

July 2007
We are so proud of Andrea and Raffles winning the Team Silver Medal at the Pan Am Games in Rio de Janeiro, Brazil!!! Congratulations to Andrea and her teammates, Tom Dvorak, Diane Creech and Karen Pavicic. The Pan Am result secured a spot for Canada to send a team to the 2008 Beijing Olympics. We are also proud that Andrea finished 7th overall after completing her lovely freestyle. They will be resting and waiting for the Event team to finish before flying back to Miami. After several days of quarantine in Miami they will truck back home just in time for our Raffles/Andrea celebration BBQ on August 8th.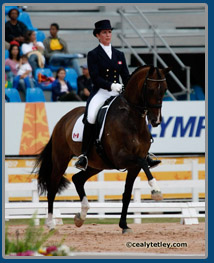 We are working hard at home while Andrea, Emily and Raffles are heading to the Pan Am Games in Rio de Janeiro. Kelsey Dickson came from Winnipeg for 3 weeks to help out at the shows while we are short handed. We phone Andrea and Emily often to keep in touch and as of the 8th they had arrived safely in Brazil and are getting geared up for the competition beginning on the 14th. The jog takes place on the Friday the 13th! It will be a great experience for them in Brazil and they will bring home lots of stories and memories!! We will let you know how it all works out!
"Faline" is going to be with Willa at pony camp for 2 weeks at the end of July so that should be a great experience for both of them. The grandchildren are coming more often now so the ponies are kept very busy! August is the busiest pony time so Shelley is getting everything organized for that!

June 2007 
We finished 2 competitions, back to back CDI's, in Ottawa and Blainville with much success! Andrea stayed in Ottawa while Emily accompanied Raffles to the isolation in Florida. Andrea rode L'Amistad in the Prix St Georges, Flagship in First level and Daylight in third level for 2 days before heading to Florida to be with Raffles for the isolation/training camp. Gina finished the show in Ottawa with Flagship winning the Open First Level Champion. Flagship also recieved honors for high score hanoverian as well as high score Canadian bred horse! Congratulations to Kristal Farm! Gina and Frappuccino competed well in Prix St Georges, getting more consistent with the test. Delight was very good in the third level classes placing in every class. Shelley Malbeuf came from Edmonton with Weltbeste to train and show for a couple of weeks and was third level reserve champion! Shannon Sluser from Saskatoon was also here to train/show and did a great job with Monaco in the prix St Georges and Inter 1 classes. Stef Roffey competed Edward in the first level classes and then switched to her mother's horse Wendel for Blainville!
We had one day at home to do laundry and then headed to Blainville. Gina rode Frappuccino in both Prix St Georges classes and was 5th in both with 63%. Flagship was Open First Level Champion again with high scores in the 70's! Wendel finished as Open First level reserve champion with Stef aboard so we took the class!! Both Gina and Stef scored a 10! Gina for an entry/ halt/salute and Stef for the final halt/salute! Shelley and Weltbeste were Third level champions this time with very consistent placings and tests.
After  3 competitions in May,  Andrea and Raffles qualified in the top 8 vying for the Pan American Games Dressage team.  There were 2 trials held over 5 days from May 30 - June 3 and Andrea finished 2nd overall so she and Raffles will be heading to Brazil!!!  We are all so proud of them!  They will travel to Miami for an isolation period at the end of June before flying to Rio de Janeiro on the 5th of July.  Emily will go with Andrea to groom Raffles, which she is also very excited about.  We would like to congratulate Tom Dvorak and Beaumarchais as well as Diane Creech and Wiona for making the team as well.  Karen Pacivic and Lionheart will go as reserve so we have a super team of horses and riders! 

| | |
| --- | --- |
| Cino | Cino |
| Delight | Flagship |
| Raffles | |
May 2007
Andrea has 3 shows in a row to try and qualify for the top 8 in Canada vying for a place on the Pan Am Games team.  The first show at Saddlewood gave her some good scores and her freestyle was well received by the judges.  We then went on to CDI Paxton Farm in Cincinnati, Ohio.  Raffles was again consistent and Gina was able to get Frappuccino started in the Prix St Georges in the national show.  Such a beautiful venue at Paxton farm, certainly worth the 11 hour drive!
The 3rd show was in Ottawa run by Equivents.  Raffles again produced 2 very good tests and we decided not to compete in the freestyle, having had good enough scores to draw from anyway.  Flagship was ridden by Andrea in the 1st level classes and he was wonderful, decidedly winning the championship and scoring well into the 70's as well as an 82%!  Walencia ridden by Andrea and Delight ridden by Gina debuted in the 3rd level and had consistent scores.  Delight won the championship at 3rd level!  L'Amistad also ridden by Andrea had good scores in 4th level and his 1st Prix St Georges produced a very respectable 64%.  Frappuccino was also good in the Prix St Georges, performing better on the second day after he had a chance to settle in.  Congratulations to all the students who did so well on this lovely weekend!
Amanda took Dance to Saddlewood as well and started the season with 2 very well ridden Young Rider Team tests and also won the Freestyle! Her new music was much enjoyed by all so thanks to Karen Robinson for a job well done!
Gina went to a show in Ottawa with Frappuccino and Delight. Frappuccino debuted his Prix St George and had a 64% so a great start for this freshly baked FEI horse! Delight went very well in the 3rd level and was champion of his division. Emily rode Daylight to both of their debuts at 3rd level and very respectable tests making Gina very proud of them both! Stef Roffey did very well at First level with Edward. Stef has just joined us for the summer to help out in the stable and train. Barb O'Grady had a good ride with Caesar in the Prix St Georges as well, Caesar spent the winter with us and is now back at his summer home with Barb.
We are off to a good start so now we are off to the CDI 3* at Paxton Farms in Cincinnati, Ohio. We will keep you posted.

January 2007
January continued to be warm and balmy until the 15th when winter finally hit! We are glad to be out of the mud now believe it or not and into more normal temperatures.
Congratulations to Susan Maurais on her purchase of the talented 4 year old "Chopard" from Kristal Farm! Chopard will stay here for awhile and Susan will visit him from Indiana until the spring when she plans to take him home. We are certain that she will have a great career with this lovely horse
We are also very happy to announce that Andrea will receive support from athlete development through Equine Canada to help her continue training this year towards her goals with Raffles!! Thanks Equine Canada for helping Andrea reach her goals!