July - September 2013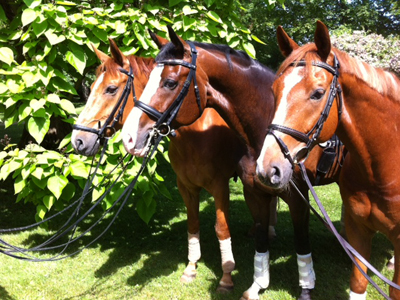 (L to R) Rhythmix, Royal Flush and Danbury.
The summer flew by far too fast. Faith's grandchildren were at summer camp with Archie for July and then spent August at Franklands riding with Kaylee and Shelley, developing their dressage and jumping skills.
They are all doing so well and growing into great teenagers! Gina competed Danbury at third level at two competitions in August, Palgrave and Beaulieu. Danbury loves the competition atmosphere and continues to school Prix St George exercises. Royal Flush also went to the shows as a non-competing entry to be a part of the atmosphere. He is also working the Prix St George exercises.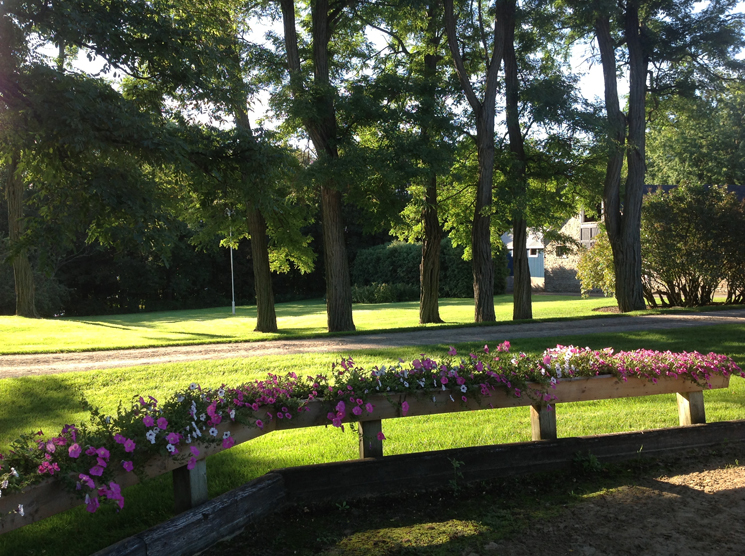 Elysee is a new addition to the Farm and we have spent most of the summer piecing together her background. She is spending some time at Millar Brooke Farm now, so that has been a very exciting part of the summer for sure!
(Elysee pictured below left.)
Shelley bought her much loved Flynn from Kristal Farm and will be schooling all winter towards the competition ring next summer.
(Shelley on Flynn, below right.)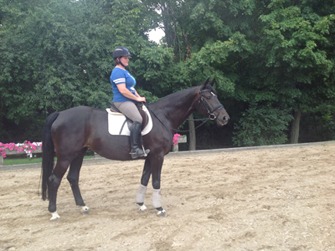 Thanks to all the working students, Patricia, Isabelle, Rachel, and to Franklands employees, Bill and Mark (mowing, below), for keeping the property looking so beautiful. It is always such a joy to have a top class facility to train the horses and riders!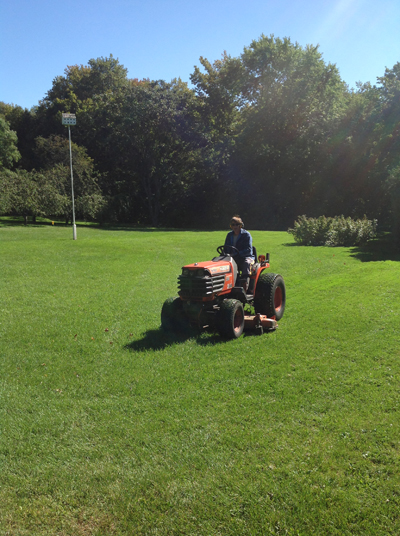 January - June 2013
After a busy winter it is finally spring and the colors and flowers at Franklands are as lovely as usual. Gina has been busy with clinics, attending the Dressage Canada summit in Florida and attending the CDIO in Wellington Florida as Chef d'Equipe for the Canadian teams. The success of the teams was great and we were proud to have a team bronze medal as well as individual gold. Gina also attended the official opening of the Equine Canada at their new location in Kanata. The office space is much larger and the parking lot is huge so the federation has a great new home now! Gina went with Royal Flush and Danbury to the Spring into dressage competition as non competing horses for a good outing and to see the newly upgraded Palgrave site. It is coming along very well there and we will have a fantastic facility for the Pan Am Games in 2015! Gina also looked after selling the inventory of a tack store that was kindly donated to Dressage Canada after the store retired from business. There were lots of great deals to be had and the first part of the sale went extremely well.
Gina also attended a fundraising meeting for Dressage Canada in Toronto that was a terrific brainstorming day to get Canadian Dressage back on track with some great funding ideas and projects. So much enthusiasm and expertise will certainly help Dressage Canada achieve their goals of getting back on the podium!! Summer is always a busy time for us with Faith and Bill's grandchildren coming to ride so we look forward to seeing them all again soon. Gina continues to be busy with clients, sales and teaching throughout the summer months!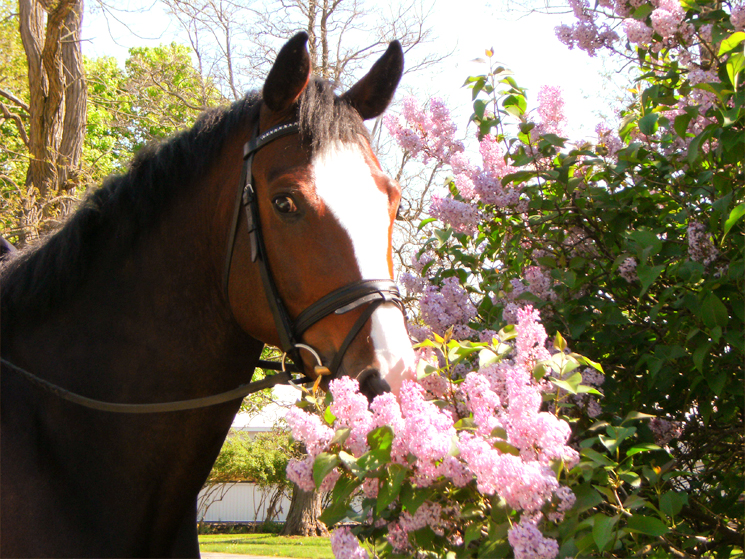 Royal Flush in the lilacs.