December 2008
As we get into winter we want to wish everyone a very Merry Christmas and a Happy New Year!  We look forward to a winter of training and getting the horses ready for the 2009 show season.  Gina has enjoyed taking Rhythmix to the many scheduled clinics given by Albrecht Heidemann at Oxford Ridge Stables.  The continuity of the training has been very helpful and we feel there will be many great seasons to come.  We have lots of goals for the coming new year so with consistent training we hope to reach them with all the horses.  We have lovely youngsters from Kristal Farm to school and several new ones to back and start so we look forward to presenting them for sale. We are also very excited about the arrival of a new prospect for The Firelight Group Inc.  He is a 2 1/2 yr old hanoverian gelding from DeNiro.  Danbury will arrive in January from Germany so we also look forward to getting him safely "home" and settled in.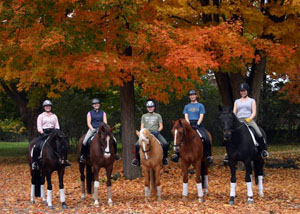 November 2008
Gina and Sharon went to Saugerties NY for the NEDA fall show. Sharon had Essence of Glory in 3 Grand Prix classes in the National show and gained valuable ring experience with consistent rides. Gina had Frappuccino in the CDI small tour and her best class was the freestyle where Frappuccino settled nicely into the music and had a good test.

After the show, Sharon schooled until the beginning of October and then headed home to Edmonton again for the winter. The fall and winter months are the best time for schooling the horses to the next level so that is the task for now. Gina, Sharon Merkel-Beattie and Gillian Wright were featured in an article in the November issue of Horse Sport magazine, schooling flying changes. Frappuccino and Flamboyant were demonstrating in the photos. Karen Robinson did a fine job of writing and we are all very proud of the article.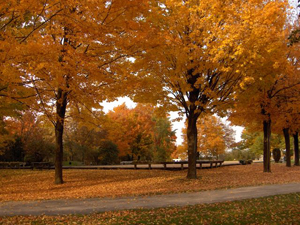 August, 2008
August has been a very busy month with the grandchildren taking daily lessons on the 3 great ponies we have here. Shelley has done a wonderful job of making the schedule work and the children have all enjoyed their time in the saddle very much. They finished off with a Gala, each showing how much they have improved. Faith, Kate and Willa then rode the ponies and took instruction from their children/grandchildren. It was alot of fun.

Gina and Vivian took Frappuccino and Daylight to the CDI in Saugerties New York. Both did well despite feeling a bit sluggish the first couple of days. It was warm and humid, lots of cloud bursts, but it was a beautiful venue that we plan to visit often in the future.

The next show took Gina and Rhythmix, Vivian and Daylight as well as Sharon and Essence of Glory to Beaulieu Farm in St Justine de Newton Quebec. It was great to be at "the old Windedge site" again and the facility is just as great as ever. It was very hot and humid but all the horses performed well. Gina won both advanced classes with 67 and 68% as well as the Advanced Championship with powerful rides on Rhythmix. Vivian had 2 - 3rd place ribbons in the FEI pony classes. Sharon won the Inter 2 with a score of 66.5% and went on to do her first Grand Prix with Essence of Glory to finish with a score of 63.9% taking second place and the Grand Prix Championship! Congratulations to all the great results!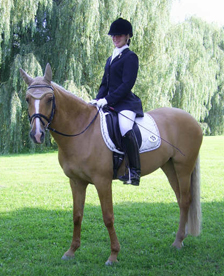 July 2008
We had a very good show at The Friends of The Park Dressage Show in Ottawa. This is always a great show to attend, very well run and friendly. All 5 horses went very well. The highlights included Flamboyant winning all his classes at training level with scores in the 70's as well as 2 championships and high score for Saturday. For his first competition we were all very proud of him and Kaylee! Laura did a great job with Daylight in the second level and came out Champion as well in the Open division. Emily had her first show at fourth level with Raffles and was reserve champion in their division. Gina gained more experience with Rhythmix, full of power! and reserve champion in the advanced division.

The summer is in full swing with the pony camp now. All the children are practising very hard for their gala finale with freestyles! We are lucky to have 3 great ponies this year for everyone to have group rides.
Franklands Farm wishes to congratulate Pam Janzen on the purchase of Kristal Farm's "Lorenzo" as well as The Firelight Group's "Delight". We wish her all the best and we are sure the horses will excell under the training of Shanna MacNeill. Gina will see both horses often since she travels to Calgary regularly to give clinics at Trakehner Glen Farm.

June 2008

Our next outing took us to Palgrave for the CornerStone Spring Into Dressage Show.  Frappuccino improved from the last show and was 4th in the Prix St Georges in a very large class.  He also did his first Inter 1 Freestyle to a great composition that Karen Robinson did for Gillian Wright of Trakehner Glen in Calgary, Alberta.  Gillian kindly lent Gina the music for a few shows and it was very well liked by all.
Delight was again very consistent in the ring and had 2 wins and a second to capture the Fourth Level Championship.  Gina was very happy with his composure with the muddy footing (it was cold and had rained alot) and the big atmosphere at this great venue.
Vivian Cornell rode Faith's pony Daylight in the FEI Pony division and gained some valuable experience for the upcoming CDI's in Blainville, Quebec.  Vivian is really doing well to give a relatively green pony the ring experience required for the big shows.

Shannon Sluser had a very consistent FEI advanced division with Monaco.  Shannon is training at Franklands from her Saskatchewan home to gear up for the Blainville shows as well.
Flamboyant went along for the ride to get some show atmosphere experience and he is very proud to be included as one of the "Big boys"!  He showed excellent character and composure in every situation.
Briannon Johnson completed her first show at the Young Riders level with Matisse.  Briannon has done a great job getting to know her leased mount and did a very respectable job for their first outing.  It was the first Prix St George for both horse and rider!  A good warm up for Blainville.
Summer has suddenly come upon us with the heat and humidity we usually get.  The farm looks beautiful since we have had so much rain, just how many shades of green are there? Unbelievable!  We look forward to Blainville and will keep you posted as to how that goes.
We just finished 2 back to back CDI's in Blainville Quebec.  It was organized by Equivents and ran very well at this wonderful venue.
The first show Gina had Rhythmix in the CDI at the advanced level.  She had a very good ride in the Prix St Georges and earned a 5th place in a very strong field of competitors.  The next 2 classes, Intermediare1 and the Freestyle were not as connected but Gina was happy with Rhythmix and learned more about his character which will be very helpful for the future.  We had some excellent response from the judges so it was great to get their opinions.
Gina also rode Flagship in the national 3rd level classes to have 3 good tests and respectable scores in the 60's!  Kelsey rode Kristal Farms "Lorenzo" at his first show at 2nd level and ended up 2nd level Reserve Open Champion!  Lorenzo is Flagship's half brother so he certainly showed us that he will be a competitive show horse in the future!
Vivian rode Daylight in the FEI Pony classes and ended up winning all her classes!  There was a field of 8 ponies this year so it was great to see so many young riders getting the FEI ring experience!
Shannon Sluser rode Monaco in the advanced division and did a very respectable job in a tough field of competitors!  Briannon Johnson rode in the FEI Young Riders division and put in 3 good tests with Mattise.  Congratulations also to Stefanie Roffey and Wendell for their 2nd level rides.
The second show Gina brought Frappuccino for the FEI advanced division and he had very good results, just getting better as the show progressed.  He was 6th in the Prix St Georges, 3rd in the Intermediare 1 and had an excellent Intermediare 1 Freestyle during the Gala evening under the lights!  The atmosphere suited Frappuccino just fine and he ended up 2nd.
Daylight was successful again even though she was spooked by the judges tents she came back to win the freestyle in the FEI Pony division.  Vivian went on to be part of a Pas de Deux with her friend Noemie at the Gala evening.  Both ponies were well practised and they pulled it off perfectly under the lights and infront of a large crowd!
Briannon had solid rides on Mattise and improved from the first show.  Shannon had good scores with Monaco in the FEI Advanced division.  Joan Johnston came to the second show to get some Grand Prix rides in the National show and learned alot about getting Wessel ready for this demanding test!  Everyone arrived home safely and after a few days recovery we are looking forward to summer.

May 2008
Spring is finally here and the lilacs are more spectacular than ever this year.  The entire farm is perfumed with the beautiful bushes.  We competed at the Equivents Spring Dressage Show in Ottawa and had great results with all the horses.   Gina showed Frappuccino and Rhythmix in the advanced division.  Frappuccino pulled his socks up even higher for his first Intermediare 1 and had a respectable 4th place.  Gina learned alot about how to ride Rhythmix on the first day and won the Intermedare 1 on the second day with a good ride inspite of the only wind and rain of the 3 day show.  A great start for this new combination!
Gina rode Delight to the 4th Level Championship, he has matured so much this year and is proving himself to be a contender for the future.
Gina also rode Kristal Farm's 6 yr old "Flagship" to win all his 3rd level classes and captured the 3rd level Championship.  Flagship has such elegance and has made the transition to 3rd level easily over the winter.
Another new combination, Vivian Cornell aboard Faith's pony "Daylight", rode the FEI Pony Division.  She won all her classes and had the championship so it was  a great start to the season for them!  Her freestyle done by Karen Robinson's Applause Dressage was especially exciting to watch!
Stefanie Roffey rode Wendell to the 2nd Level Championship, a step up from last year so we are very proud of them!
Thanks to all those who attended and cheered us on, it was great to see you all there!  Especially Diana and John Weatherall who were there on Sunday afternoon for the final ride of the show, Delight, who won his class just for her!
Joan Johnston made her Grand Prix debut with KRS Wessel and really did a super job of piloting him through the movements.  We are proud of all Gina's students and their results at the show!

April 2008
Spring has finally arrived but it is really not very springlike yet!  We have had ALOT of snow and the cool temperatures have been hanging on so it is not melting fast, which may be a good thing.  We have been working steadily through the winter and look forward to the upcoming show season.  Vivian Cornell went along with Gina to a clinic with Albrecht Heidemann.  Vivian and "Daylight" did a great job and continue to work toward the FEI Pony classes this year.  Gina got some good pointers about Rhythmix which was great since Albrecht has known the horse since he was a 3 year old.
The training has been going well and there are 6 new hopeful Grand Prix horses on the horizon so we look forward to introducing them into the ring!  It is so fun to see the riders schooling their horses through the levels and reaching their goals.
The youngsters from Kristal Farm are progressing well and Michele has already welcomed 2 foals from Fidertanz this year!  Dakota and Thias are the proud mothers!  Check out our sales page for information on the sales horses.