September - December 2012
It has been a very busy last quarter of 2012 and we welcome the New Year 2013 with great expectations! After the close of the summer holidays and all Faith's grandchildren returned to school it seemed to get quiet for awhile but with a full stable we were kept busy. Whitney Braun left us as a working student and returned to Edmonton, so we wish her well in her future endeavours. She had a great two years here and progressed to compete Daylight at Third level and schooled her most of the Intermediare 1 test. Whitney had some of the best canter pirouette work ever with Daylight she achieved 15 one tempos once!! Click here to see a video just before Whitney went back to Edmonton.
We would like to congratulate Robin Brent on her purchase of Judith Pineault's horse Biolek just before Christmas! We look forward to seeing this pair develop a great partnership and compete this coming season. Thanks to all our clients and to my wonderful staff here at Franklands and we look forward to a great season in 2013!!
I thank Liz Steacie for her computer expertise and for putting my favourite video of me riding Faust in the Grand Prix Special at Paxton Farm in 2001. This was his first diamond award for the high score at the CDI level. Click here to link to this fabulous horse.
Here is my most favourite of Quel and Faline last summer. Quel will be truly missed but we know she is in a better place with all her pony friends. Quel was a valuable asset to our summer program with the grandchildren over many years, we estimated her age at around 30.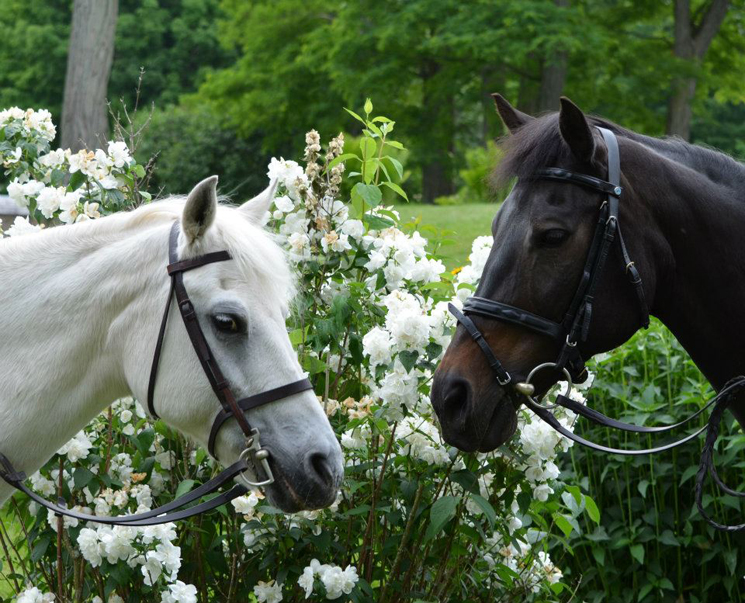 Quel and Faline in the orange blossoms.
June - August 2012
We had the last of our shows in Blainville, Quebec where again Royal Flush won all his Third Level classes with Gina and was Third Level Open Champion. Whitney rode Daylight in the Third Level classes as well and placed twice 4th and once third in big classes! We always love going to this wonderful venue and seeing as it was the last show that our Canadian Olympic riders could qualify for the leaderboard, it was exciting to see the Grand Prix riders compete.
Congratulations to Ashley Holzer, Jacquie Brooks, David Markus, Diane Creech and Pia Fortmueller for making the top 5 in Canada for the 2012 Olympic Games. In July they all met up at training camp in England along with the support staff to get ready for the move into Greenwich Park in London shortly before the official jog for Dressage. Gina was there as Chef d'Equipe for the team and it was a completely different side of being a part of the team than participating as an athlete. The logistics of getting a team ready for the games requires so much time and organization, we have great respect for all the support staff that worked so hard to make things easier for the athletes. Chef d'Mission, Kerri MacGregor and EC Dressage Manager Christine Peters were key in getting so much of the work done behind the scenes. England is a beautiful country and there was some time available to do some sight seeing which was great. Such history packed into every little village!!
The Games themselves were fantastic, the quality of horses in all disciplines was spectacular, and it was great to see it all live! Canada had some unfortunate circumstances in all disciplines but each team had its shining star too. We have lots of work to do going forward to develop our sport and bring Canada back into the top country it deserves to be. Thanks to all the riders, grooms, owners, and support staff that made everything work for these games.
Franklands was in top shape when Gina returned from England. The horses were all great, the riders were all better and the pony program was in full swing. We would like to congratulate Jill Harrell on her purchase of Simcha. He arrived in California and she is having fun getting to know this lovely young prospect
Now as summer is winding down, Liz is preparing to go back to Queens to continue her studies and we are welcoming a couple of new working students for the next term. Good luck to all those competing in the regional Championships!
May 2012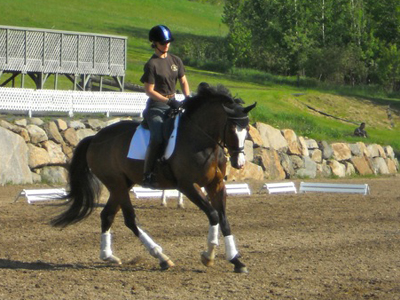 We had two successful shows to report for May. We started in Bromont with Gina riding Royal Flush in Third Level, Whitney riding Daylight in Third Level, and Jen Parks riding Morgen at the advanced level. It was a warm weekend but the horses were all very fit and the weather did not bother them at all. The Bromont venue is fantastic and we are so lucky to have such a great facility at which to compete. Royal Flush won all his classes and was Third Level Open Champion, Daylight had a first and two seconds in her Third level classes, and Jen was sixth, fourth, and third in her classes.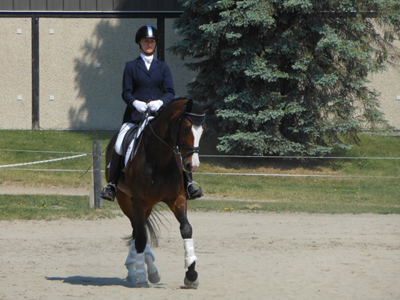 Ottawa was also a great weekend. We had warm weather and just a short downpour in the evening, so we were lucky there too. The stables are built on a new "pad" of stone dust, so it was a huge improvement over past years. Royal Flush won all the classes at Third Level and was Third level Open Champion. Daylight was excellent again and had two seconds and a third. Morgen was third in the Prix St George, second in the Intermediare 1, and the third day Jen rode Prix St George again and won the class. They were advanced Champions at the show!
Congratulations to everyone, and all Gina's students that competed so well at the shows.
Photos, clockwise from top: Gina Smith on Royal Flush at Bomont, Gina on Royal Flush at Ottawa, Whitney Braun on Daylight at Bromont, Whitney on Daylight at Bromont.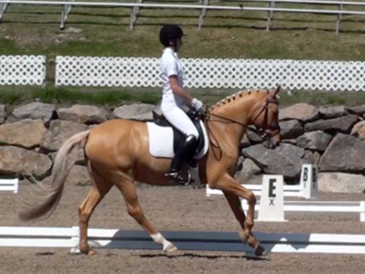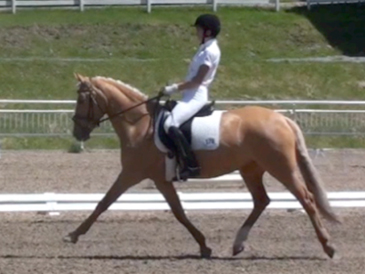 January 2012 - March 2012
The last three months of winter were really very mild and we certainly enjoyed the use of our outdoor arena much earlier than usual. We even had a week of weather in the low 20's in March, which was great, but the horses with their winter coats were really a bit too warm! It returned to more seasonal temperatures and we look forward to a lovely spring with all the flowers and trees that bloom.
Gina was able to get to Florida for 10 days in January and attended a couple of shows there to see the riders that are contending for the Olympic team in London this summer. The leaderboard is shaping up nicely. Everyone can see it on the Equine Canada website by clicking here. The final results will be tabulated late in June so it will be exciting to see who comes out on top. There are double the declarations for the team than we had 4 years ago so dressage in Canada is broadening. Most of the weekends Gina spent teaching at her regular clinics in Calgary, Montreal and Arizona as well as a few new clinics in Saskatoon, for their Equine Expo, and Toronto for CARD.
At the end of March we hosted a one-day clinic with Markus Gribbe, after which Gina flew to Florida again to attend a CDI 5* competition. It is great to have Markus' input with the young horses and everyone attending the clinic took home lots of things to work on. In Florida, the support staff held a meeting with the riders there, and riders from Europe or California could conference in if they wanted to. It was an informative session on plans moving forward. It was great to have our Chef d'Mission, Kerri MacGregor conference in as well with so much information about the games.
We look forward to a show season starting in May and June, then Gina will be busy with her work as Chef d'Equipe for the team at CDIO Aachen and then onto training camp in England and the Olympic Games in London.
Faith's grandchildren will be here all summer so there will be a riding program for them arranged by Kaylee, Shelley, Whitney and Liz. It is a great staff to have in place at Franklands for this very busy and exciting summer!!