September – December 2010
The beginning of September brings change to the working student situation and we said goodbye to Liz Allum who is attending Queen's University and said hello to Whitney Braun from the Edmonton area. In mid September, Gina attended the World Equestrian Games in Lexington, Kentucky as assistant Chef d'Equipe to the Canadian Dressage Team. She was one week at training camp and one week at the Games learning more about the Chef side of the support group to the athletes. Gina had a great experience in Kentucky and it was great to be a part of such a successful team. Congratulations to all the team members on their success!
At the beginning of October we also welcomed Stefanie Roffey with her horse Wendell as a working student. Ruth Crawford accepted a job opportunity at Meadowlands in Addison, ON so we wish her all the best with her new venture. Now that the competition season has wound down for the year Gina is busy filling the weekends with clinics at various locations. Winter is a time for training and developing the horses to the next level. We do not go to Florida (yet!) for the winter so we spend the time at home with the youngsters getting them set for the spring and summer shows. Gina is always looking forward to the clinics in Arizona which help provide a bit of a thawing out as well as seeing the people and horses she has worked with there over the years. Montreal has scheduled clinics almost monthly. Windhaven Farm in Edmonton and Trakehner Glen in Calgary are wonderful venues to teach at in the winter since they are fully insulated and heated! The only way to continue riding in Alberta in the winter is to have insulation and heat! Winnipeg has its clinics in the Fall and Spring and it is always great to see the people improve and to see Shannon Sluser develop Flamboyant! Shannon has had good success with Flambo as seen in the photo!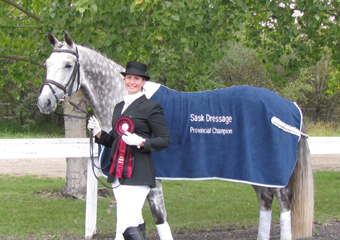 Shannon Sluser and Flamboyant
November keeps most people busy at the Royal Winter Fair. Gina, Kelsey, Lisa and Emily stayed home and took part in the Albrecht Heidemann clinic held at Oxford Ridge Stable in Kemptville. It is now the end of a 10 year long relationship Albrecht has had with Dressage FYRST Program owned by Roz Farber. It has been a very successful program with the development of horses and riders at the jr/yr level as well as their coaches. Roz has dissolved the company and the program will start anew so we will keep you posted as to those details.
December seems to sneak up on us and with it came the snow and cold. The boxes of hand and toe warmers come out of hiding as well as all the extra layers of clothes for both riders and horses. Gina's dog, Cory, is the one who loves the snow the most. He has no problem sleeping in it with his thick long fur coat.
The Firelight Group Inc. purchased Royal Flush, a 2005 Hanoverian Stallion bred by Kristal Farms. He has been in training for 3 years so we know him well. The syndicate now owns Danbury and Royal Flush so Gina has 2 lovely youngsters to develop for the future. Rhythmix has been doing really well and Gina hopes that he will be able to show the Grand Prix tests in 2011.
We wish everyone a very Merry Christmas and all the best for 2011!!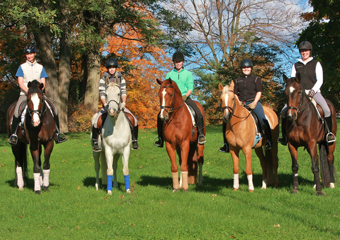 Left to right: Gina on Royal Flush, Whitney on Archie, Ruth on Danbury, Emily on Daylight, Kelsey on Flower.
August 2010
August is always a busy time at Franklands with Faith's grandchildren all visiting and coming daily for their lessons on the ponies. It is so great to see how they have all grown and developed over the last year and certainly the time they spent in July at Saddlewood Riding Camp has really given them more skills. Emily organized the program this year and she focused on getting all the children ready for a TGIF competition at centaur Riding School on August 27th. We had perfect weather and everyone did very well in their respective classes. Willa and Archie came home with the most classes won at the show award so their achievement was shared by all of us. We had our annual Franklands BBQ at Fernbank and our staff and clients enjoyed swimming, tubing and of course some wonderful food!
We were also showing at the gold show at Beaulieu Farm in Quebec. We had not the best weather but all the horses were super with great results. Ruth rode The Firelight Group's "Danbury" to the training level open championship earning high score of the show award with 78.8% . WOW! Ruth also rode Kristal Farm's" Harley" to the 1st level reserve championship with scores in the high 60's and 70's. Ruth rode "Dolce", formerly owned by Kristal Farm and now owned by Heidi Kohl, to a second level reserve championship at his first show ever! Kelsey rode Fantastik Kingdom in her first show this year and had several scores in the high 60's at 1st level. Sharon Cuerrier rode her horse Madison in 1st level as well and had 3 very good rides which improved with every outing! Look for the videos of Harley and Fantastik Kingdom (aka Flower) on our sales page.
We also had a great clinic with Albrecht Heidemann at Oxford Ridge Stable. Gina rode Royal Flush who is working well at 3rd level, Ruth rode Danbury and is getting on to the next level and Lisa McLeod rode her new horse Barrister and got some very good feelings that she can work on.
Gina looks forward to being the assistant Chef d'Equipe at the World Equestrian Games in September. Gina will be in Lexington for the training camp as well as at the show grounds for competition.
Watch the videos of Danbury and Royal Flush at the following links
July 2010
We are full into summer now and Archie has gone to Saddlewood Pony Camp to be with Willa Stevenson for the month of July. Willa's cousins, Jennifer Berghuis, Kate and Carolyn Baynard will join her for the second session so we are sure they will learn alot at camp and make lots of friends.
Gina went to the CHIO Aachen, Germany for a week to be the Chef d'Equipe for Canada's dressage team there. It was very exciting to see the European horses and riders in action live and Canada's team finished a very respectable 5th place. It was very special to have Eric Lamaze win the Grand Prix with Hickstead. Ashley and Eric proudly carried the Canadian Flag at the closing ceremonies which are truly a spectacle that every horse enthusiast must see.
We also had a super showing at the Friends of the Park Dressage Show in Ottawa. Ruth Crawford showed Danbury in his first competition and won 3 classes, was 2nd in one class and won the Open training level Championship with scores of 70, 75, 75, and 76%. Super job for this lovely 4 year old! The Firelight Group is very proud of their youngster, he handled himself like a well seasoned competitor. Ruth also rode Barrister to wins in the Prix St Georges and Inter 1 classes scoring 66% both days. Liz Allum also had Watson in the Prix St Georges and Inter 1 and was 2nd both days with a 65% both days. Emily rode Daylight in the Prix St Georges both days and had very good tests with Faith's lovely pony! Lucy Cumyn was training at Franklands for a few days before the show and rode Nairobi in Prix St Georges both days. It was also great to see Emily Fownes ride the young rider classes with Frappuccino, they are developing together into a strong combination.
Danbury and Ruth Crawford

Daylight and Emily

Barrister and Ruth Crawford
We have added another pony to the team at Franklands! Midnight Dancer has arrived and is getting ready for Faith's grandchildren who will be here for the month of August. We have 5 ponies so there are enough to go around (Archie is actually a small horse since the children are growing so fast!).
We are also happy to congratulate Lisa McLeod on her purchase of Barrister! We look forward to getting this new combination into the show ring. It is a great match and it will be fun developing this pair for the future.
The countdown to the World Equestrian Games is coming to an end we will soon know the 6 that will go into training camp in September. The final team will be chosen Sept 25 before they go into the grounds at Lexington, Kentucky. Gina will be there as assistant Chef d'Equipe to Gwynne Rooke so Gina is looking forward to another great experience at an International Event.
June 2010
We started our show season in Bromont Quebec with a national gold show. It was at the 1976 Olympic venue which is being renovated and it will be fantastic when it is done. It is in an absolutely beautiful setting with the rolling hills and we look forward to showing there in the future.
Emily Dexter showed Faith's pony Daylight in their first Prix St George tests and improved each day scoring 60% from some of the judges. Faith and I are very proud of the work Emily has done with Daylight and it was great to see them both get into the FEI level. Liz Allum showed Watson in the Prix St Georges and FEI Young Rider test and also achieved scores good enough to capture the Young Rider Reserve Championship. Ashley Phipps rode Dark Dandy through the FEI Junior tests and ended up with the Junior Championship.
(the photos are from Bromont, palomino pony is Emily Dexter on Daylight, Black is Ashley Phipps on Dark Dandy and chestnut is Liz Allum on Watson.)
Our next show took us west of Toronto to Milton and the Iron Horse Equestrian Center. Ashley rode Dark Dandy again in the FEI Junior classes. Unfortunately a train spooked Dandy in her first test but she came back strong to win her test the next day. I rode Kristal Farms Royal Flush in the FEI 5 yr old classes and a first level test. Royal Flush won all 3 classes with top scores and was Champion of the FEI 5 yr old division.
The following week we were at the CDI Palgrave and unfortunately arrived in a torrential rainstorm so we got thoroughly soaked unpacking and moving in. Thursday started to dry up, somewhat, and we were able to prance through the jog without getting too muddy! Royal Flush was in the FEI 5 yr old division, Dark Dandy was in the FEI Junior division, and Watson was entered in the Prix St George and Young Rider test. Liz was very happy with Watson's tests and improved on her scores from Bromont. Ashley had some miscommunication with Dark Dandy which can be expected in a young combination but came back the second day to achieve a much better ride. Royal Flush won both CDI FEI 5 yr old classes with some excellent remarks from the judges. He scored 78 the first day and 80.04 the second day. The judges made special remarks about his walk saying that his walk was seldom seen in the world today and gave him a 9.4. WOW!
| | |
| --- | --- |
| | |
We are now off to the CDI at Blainville so I will let you know how that goes. We have a full stable of horses in training and everyone is loving the summer weather at Franklands Farm.
Gina was inducted into the Brockville Sports Hall of Fame in June and is now among 95 other athletes and builders that have achieved this honor over the years. The presentation was at a banquet in Brockville and it was thoroughly enjoyable to have 2 tables of 10 there to support Gina who have also been very key in her successes over the years.
We had great success again at the CDI Blainville. Gina rode Kristal Farms Royal Flush in the FEI 5 yr old classes and won both of them again with super comments from the judges. There was a torrential rainstorm during the class on the second day and Royal Flush was absolutely super through it all. Gina has never been so wet riding, it was like sitting in a pond in the saddle! He ended up with a score of 83.4 and won the hearts of all the spectators and judges.
Ashley rode Dark Dandy and placed 3rd in the Junior Individual test, 4th in the Team test and 3rd in the Freestyle so she had 3 very consistent tests.
Gina is off to Aachen, Germany in the middle of July to be the Chef d'Equipe for the dressage team that is doing the European Tour. It will be fun to be at that spectacular venue with the Canadian horses and riders.
March 2010
We have had a good winter in Brockville, not as much snow as expected but there is still alot of mud around and Archie seems to find every bit of it!! Gina has been very busy with teaching clinics and keeping the horses and riders at home progressing.
We have made 3 sales this year and want to congratulate the following people on their purchases.
"Frappuccino" was sold to Emily Fownes so we wish her well and look forward to seeing them develop together and compete this summer in the Young Riders division. I will see this pair regularly at clinics so I am happy about that! Frappuccino was at Franklands for 6 years and it is always nice to keep in contact with the horses you sell.
Alan Young purchased the wonderful youngster "Replay" from Kristal Farm. I think this is a super match and I know Alan and Nancy will enjoy developing Replay. Congratulations and we look forward to seeing this pair in the future.
Kristal Farm also sold "Dolce" to Heidi Kohl. "Dolce" made his way to Ohio and we hope to see this pair often in the future. They plan to develop together as a team and work their way through the levels of dressage.
We are all looking forward to spring and the coming show season. This is the year for the World Equestrian Games in Kentucky. Gina looks forward to being the assistant Chef d'Equipe to the team this fall. Canada hopes to have a strong team representing us in dressage so we look forward to watching the selection results come in.